Part I



Here it was April and I was ready to take a trip to Montana to pick up a railroad signal for my collection. I recently became interested in railroad signals. I guess I have always been interested in railroads but when I had the opportunity to purchase a complete US&S Co. Style B lower quadrant semaphore my collecting interests haven't been the same since.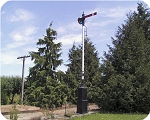 Anyways, I had quite the three day weekend planned except for what to do Saturday? Friday I was picking up the signal and Sunday was an opportunity to attend a train show... ah yes, Saturday would be the perfect day for a hunt. Of course I'm not familiar with the area since I had only been to Montana one other time for a weekend and I had no idea where to go insulator hunting. This is where it's great to have friends in the insulator hobby. You get to know people in just about every state. Yep! Good ol' buddy Ron (shifty) Yuhas was free that day to take my mother and I out hunting on the infamous Cochrane line.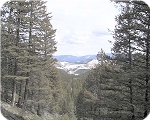 My mother never passes up an opportunity for a road trip to another state; plus having a double set of eyes hunting on the line is a plus as you will see. For early April the weather wasn't too bad for such a high elevation and we find the turnoff to the hunting spot. We start up a slick muddy road and now I'm kicking myself for not getting the 4WD fixed before this trip. Fortunately Ron was kind enough to give us a ride up to the start of the line. Ron said he had hunted the line many years ago but hadn't been back in quite a while and it was evident in the amount of time it took to locate a line that wasn't the clearcut right-away it once was. We eventually find it and start walking. I'm pretty jazzed to be walking such a famous line that the desirable purple Cochrane suspensions came from. Ron reported finding a complete set under a tree on one of his early hunts with his dad. I have no illusions that I'm going to find a complete set but I was really hoping to at least find some cool hardware. We continue on and find some purple shards to tell us that we are definitely on the right line. From the looks of things it looks like it was pretty cleaned up here either by the dismantling crew or other hunters. I figure if anything is to be found it will probably be in the steeper section of the line. We continue on when all of a sudden my mom exclaims "look at this!" There in the bush sat a CD 295 as if it was just carefully set there yesterday.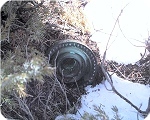 Surprisingly it was in VNM condition after lying on the ground all these years. See! Here is where that extra set of eyes comes in really handy ;-) We continued on the line and the elevation was evident by the snow that was starting to blanket much of the ground making it difficult to really see much. We reached a particular spot where the line became really steep with boulders and rocks and decided to check out the area since there wasn't much snow in this spot. We also lucked out in that it was also an old pole location. We poked around a bit finding broken chunks of Muncies and a few shards of Cochranes but nothing as interesting as the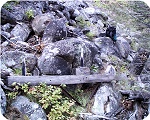 complete Muncie crossarm in very good preserved condition lying in the rocks. I knew that was going to have to go home with me next time I was up that way. I had no desire to try and pack that out in its water-logged condition. We all decided that was enough hiking through the snow. My shoes were starting to get too wet and cold for this fair weather hiker. I retrieved a two pin arm that Ron said probably held a couple of CD 295s and we headed back until next time.